The love, the sex, the thrill, the splendor and the audacity to never settle for less - he has it all! Or so it seems. But what happens beyond the magic of the stage? Where does the glamour of the show end and the private illusions of grandeur begin? The physical theatre concert Vacation from Love reveals the bittersweet "life on the road" of a singer and the love affairs with the band.
Songs from the Canadian artist and musician Michelle Gurevich are interpreted anew and shape a stage reality entirely of its own. In a mixture of live music, drag performance, and dance social norms of gender and relationship models are questioned with equal amounts of humour and earnesty.
Elina Brams Ritzau dances, sings, plays the piano and excellently performs the main character that through the piece fluidly and effortlessly moves between genders. The audience experiences the inner and outer struggles of a broken personality.
Orchestral and intimate, wild and tender, abstract and melodic, Bruna Cabral and Jakob Jentgens build a multifaceted sound cosmos using electronic and acoustic drums, vibraphone, guitar, saxophone, bass clarinet and live electronics. With their instruments, they not only perform musically but also act alongside Elina Brams Ritzau, telling the story of the relationship of the three characters. Drumsticks are thrown, there is dancing on the piano, drinking and shouting. It gets wild, disturbing and entertaining.
At the centre of the piece resides the decision to savour life in all its nuances without being limited by social conventions, or, as Gurevich puts it: "Why resist temptation?"





Concept and Staging Elina Brams Ritzau
Music and Performance Bruna Cabral und Jakob Jentgans, Elina Brams Ritzau

Outside Eye Saskia Rudat
Costumes Alexandra Tivig, Elina Brams Ritzau
Sound Engineer Martin Preu
Light Oliver Semrau
Original Score Michelle Gurevich

Duration: 60 minutes

Sponsored by the Ministry of Culture and Science of the State of North Rhine-Westphalia

Photography Faris Saleh, André Syman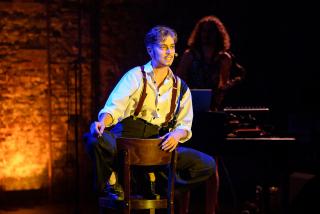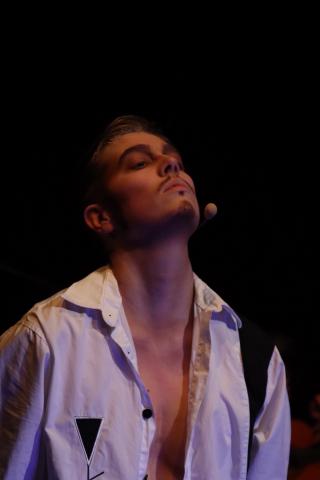 "Elina Brams Ritzau (Essen, Germany) performed wild desire charismatically and versatilely in a queer concert."

— Anna Volkland, Theater der Zeit November 2021



Winner of the Folkwang Prize 2021